The surfing world is mourning one of its pioneers of the professional side of their sport, Bernard "Midget" Farrelly, who has died at the age of 71 from a long illness due to cancer.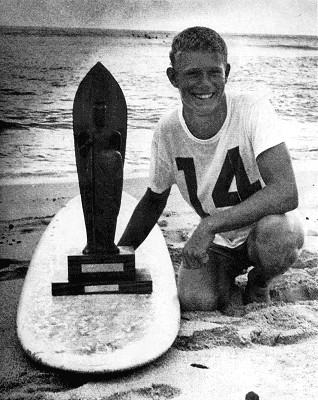 Midget Farrelly was the world's first crowned World Champion in 1962 at Makaha beach on the island of Oahu, Hawaii USA. This was an unofficial title, as the world championship title was won by Midget on the beach at Manly in Australia, two years later in 1964.
As a pioneer of class, style and finesse, Midget was a forerunner to the professional surfing scene that provides not only a spectacle for millions of people around the world who watch the WSL professional surfing titles both online and on cable, he helped pave the way for surfers to actually make their living by surfing some of the worlds best waves. Places like, Teaupoo in Tahiti, Pipeline in Hawaii, Cloudbreak in Fiji, Snapper Rocks in Queenland, Supertubos in Portugal, Trestles in California and many other locations sprinkled around this surfing world.
Surfers like three times world champion Mick Fanning, owe a lot to the Midget, not only in looks (see photo above) but to the amazing lifestyle afforded by talented surfers such as he is.
I first met Midget in late 1979 where he worked in Brookvale at the Surfblanks factory. I was 18 and fresh out of high school, looking for a job in the surfboard industry. There just happened to be an opening for a junior fin maker, to help keep up with the production for the flourishing surfboard industry. It was in this time that countries like Japan, had discovered the surfing lifestyle and many of the fins and surfboard blank materials were shipped offshore in those days.
I worked with mostly surfers at Surfblanks and would listen to Midget gripe on many occasions about his troubles with Nat Young, a dynamic ground breaking surfer who would come after Midget and steal his thunder. Midget was a very articulate orator and held many an opinion about the surfing industry, board design and his love of all things in the ocean. Not only did he excel at surfing he was very active as a hang glider, kite surfer and stand up paddle surfer.
Our condolences go out to his loved ones and family.