The act of standing on a surfboard to catch a wave was first described by an Englishman on a boat in the year 1769, although most surf experts estimate the activity is between two and three thousand years old! Standing on a surfboard to catch a wave has Polynesian origin and as such they have been surfing longer than anybody else. Today, surfing has broadened into a huge sport with championships occurring every year. Live television coverage, high speed action, and huge plumes of sea spray are things the original surfers would never have been able to imagine. Welcome to the new era, bros! Surf is dominated by Hawaiians and Australians now (with Australia having the highest number of pro surfer residents) and they are sure to defend their crown for years to come.
Early Surfboard Fins
Early surfboards looked and felt very different from what they look like today. Early boards were made out of solid pieces of wood and they were so heavy that they had to be incredibly long to be able to catch a wave. Many boards were fashioned out of wood that was local to Hawaii, but occasionally, wood that was imported for use in construction, such as great redwood, was fashioned into large surfboards. Redwood is a very strong type of wood but it also was very heavy. The dimensions of these early boards was astonishing at twenty feet in length and close to 200lbs. With very little knowledge about hydrodynamics, there was no way to steer these enormous boards and most of the surfing was actually riding waves straight into the shore.
Enter Tom Blake, Man With A Vision
Tom Blake, an American living in Santa Monica in the 1920s, was integral to the origin of surfboard fins. He effectively created a way for surfers to steer the boards while riding rather than sticking a foot or paddle in the water. The story of Tom's first fin involves struggling on top of the board and trying to find a solution to help him steer. He spoke to the owner of a speedboat about how he managed to control the vehicle at such high speeds. The skipper told him the boat had a long fin mounted in the center of the back of the boat that kept the back end from spinning during high speed turns. This gave Tom some good ideas for how to integrate the fin system with a surfboard. One day when he was out surfing, he noticed a boat left on the beach, apparently abandoned. He approached it and looked for a similar keel to the one found on the speedboat. He modified it to be the right size for a surfboard which ended up being about 4" deep and a foot long and mounted it to the surfboard. The sensation was very different from before, he commented, but eventually it became much easier to ride waves. Tom said it took ten years before other people started to use fins on their surfboards but once they did it became a permanent piece of equipment for anyone interested in the sport.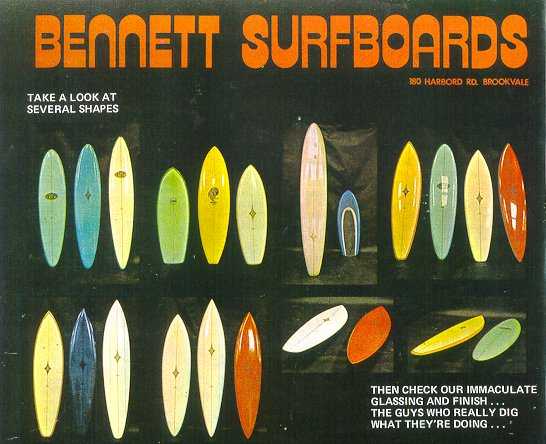 Bob Simmons is another important figure in the origin of surfboard fins. He took Tom's design and further modified it, creating a unique design that increased the effectiveness of the fins. His designed used two fins side by side which gave the rider even more control of the board in the water. This design is the earliest ancestor of modern multi-fin setups. In the 1980s another rider from Australia named Simon Anderson, after seeing another surfboard shaper, Frank Williams experiementing with a stablising centre fin towards the tail of the surfboard to help give more direction to a twin fin, modified the design further and created the most effective fin setup the surfing world has ever experienced. He utilized the twin fin setup and added a third one mounted in the center slightly behind the twin fins. He called it a Thruster, which is still used in modern day surfing! The control offered by the three fin setup was unreal; riders could throw spray and carve up and down the face of the waves like never before.
Modern Day Thruster Thanks To Simon Anderson
Slightly before Anderson came out with his design, the Campbell brothers had come out with their three fin design, but because they were not pro surfers, they didn't get any recognition for the design. After Anderson became popular, the brothers aimed to design a new and more effective fin system. They eventually produced a five fin system and named it the Bonzer. This included the fin system as well as a concave hull which was a new feature at the time. Modern day thrusters still use this concave hull design.
Up until this time, fins had been permanently affixed to the board which gave them incredible strength but made it easy to break and costly to repair, since many boards had the fins coated in fiberglass with the rest of the board. This costly designed was redone by Brian Whitty from Australia and allowed the rider to choose between a three, four, or five fin setup. The fins have tabs on them which allow them to fit securely in the underside of the board and are tightened down with screws tightened via a fin or hex key. This design was revolutionary because it allowed riders to choose their fins and modify placement to accommodate different kinds of riding which previously required a collection of different boards.
Some fins have incredible amounts of technology packed into them despite their small size. Adaptive Dynamic Adapt and Camber fins, or ADAC for short, are variable throughout the wave to accommodate different needs of a surfer. For example, the attack angle will change to allow the surfer more control, or the degree of camber will change to increase or decrease lateral stability. This allows for a unique and reactive surfing experience, something the ancient Polynesians could never have dreamed of.
Modern fins have been made out of newer and higher quality material as well. Old style fins were made out of wood or metal which got fiberglassed into the board. Modern fins use modern technology: fins are made from lightweight fiberglass composite or strong types of plastic. Fiber fins are very performance oriented and can be made with different types of materials such as bamboo, or be reinforced with carbon fiber. They also have special cores designed to decrease weight and increase the flotation of the board. Companies continue to design and test new fins as rider performance continues to increase. There will always be a hunt for the perfect fin that gives the rider a combination of speed and control and thus people will continue to modify and produce new and technologically advanced fin systems.